Roger Eaton, born in Queens, NY.

1944. That's a splint on my little finger -- a tennis accident. Behind me is the house where Sandy and I live in Santa Monica, California. Here is our beautiful back yard. My life is dedicated to making our Humanity 2001 project succeed. It may seem odd, but I am convinced we have a good chance at it. Alas, much of my time is spent working for a living. I play the lotto. Here's The Trial of Job, my own translation and interpretation of the Book of Job.

*** We need volunteers! Please join us! ***
I've been a programmer at Princess Cruises since 1981 or so. A lot of the members of the CCI Board are from Princess because one thing led to another. CCI really is a small organic grass roots organization.

More particulars - from 1973 to 1981 I worked in a print shop near USC. I was gassed in Berkeley for People's Park, lived in a hippie commune, worked at Gnomon (a xerox shop) and later for Laura X's women's library. Before that I managed to get an MA in history from Northwestern. In the early 60's I was a member of Students for a Democratic Society. We organized in Chester PA, where the symbol of the city was a huge roll of toilet paper at the Scott company, summer of 1964. I grew up around Boston - Bedford, Winchester, Lexington. It was public school for me and various Sunday schools - Lutheran, Church of Christ, Unitarian. Seems like it was another time then.

If you have a chance, please look up my translation of Job at http://intermix.org/job/jobtitle.htm. That is the work that has given me the most pleasure.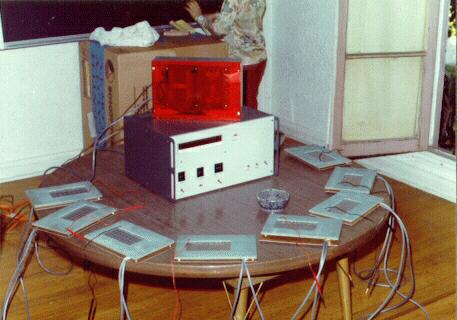 HI - here's InterMix in a 1976 incarnation at my old apartment in East Hollywood.


1988 CCI Board Meeting.
Click for 110k version.
Leigh Baker (Secretary, then),
Ronald van Ammers, myself.

Same apartment, me & dinosaur mural,
1978. 34 & thin. Click for 111k gif version -
it's worth a look! Thanks to my friend
Kent Kanouse for these old pics.
rogereaton@earthlink.net (here we are)

CCI Home Page

last changed July 11, 1998